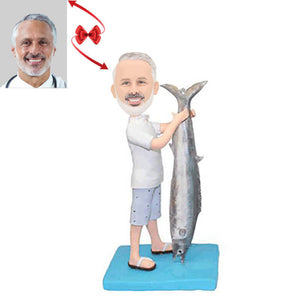 Fisherman Holding A Big Fish Custom Bobbblehead
---
---
Description
•Only the head is customized, and the body is made according to the product pictures!
•The Stationary Head can make for any hairstyles, and the Bobble Head hair can only be designed to the shoulder.
Bobblehead Free Accessories

•Small accessories on the promised product will not charge any extra fees, such as helmets, hats, glasses, sunglasses, base inscription, etc.
Upgrade process technology, metal laser engraving inscriptions (free for a limited time)
Bobblehead Proofing Service
•Proofing is the utmost important process to ensure the best likeness and highest quality of your custom bobbleheads, you will have 100% satisfactory proofing service.
Bobblehead Material

•We use polymer clay that meets the highest industry standards, it's a non-toxic, multi-color, and environmentally friendly convertible material that makes your bobblehead very alive-looking.
Bobblehead Size
•The size is the stature of the person standing from head to toe, most of our bobbleheads are between 6-9inches.
Bobblehead craft and details
Customize a unique gift today
Hair Color Is Wrong
The bobblehead is well made and the face is well done - but...
The hair and mustache should have been completely gray, as in the picture provided. The hair color on the proof looked gray, but the finished product was dark brown with a shadow of gray.
Apart from that, it's unmistakably my brother.
Xmas
I brought them as a present for Christmas and they were a really big hit , we absolutely loved them 👍
I'm a Great Catch
Couldn't believe the likeness that your company caught of my husband's face, Salt and Pepper hair and beard. Even added his sunglasses! This is a Christmas gift, but I'm excited to see how he reacts when he sees it!
---
We Also Recommend